Paris, France
My 5th time here. The people are beautiful . Fashion forward . One of the most memorial cities of the tour. Hopped on the train for the first time ever. A day pass cost 8 euro which is about $11 US.  You swipe your card to enter and exit the train station.
Six stops later I'm at Avenue des Champs Élysée , which is one of the primer shopping spots in Paris. I saw this jacket and everything stopped!!  I tried it on and said how much… They said "It's on sale for 2,000 euro," which is about $2,650 US. I took that thing off so fast !!! Lol.. Our look is important, but not that damn important. Ha..
I've been a vegetarian for 10 years and in my travels I've seen people eat snake, cat, kangaroo, alligator, rat, bugs,etc..  I thought I'd seen just about everything until this  It's called beef tartare. They had a picture of it on the menu and I didn't believe it until my friend surprisingly ordered it. It's uncooked beef with a raw egg . She mixed it up, added salt pepper and went to town. I can't.. Lol. I wonder if  it's healthier than cooked meat? Either way, I'm not eating either!!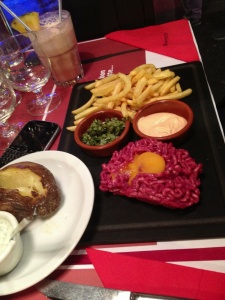 One of the best shows of the tour!! The two days off plus the energy from the crowd made the difference. My bass filled the room … I felt great about the performance, the vibe was right, and the crowd was live!
I took a cab to the Eiffel  Tower. FYI they drive crazy here. The cars are much smaller, but they will hit you. Look alive…The Eiffel Tower is beautiful at night , but it was cool as ice outside so after the picture it was time to go. "Niggas in Paris .." playing as you read.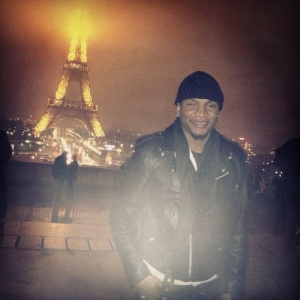 Thanks for reading!