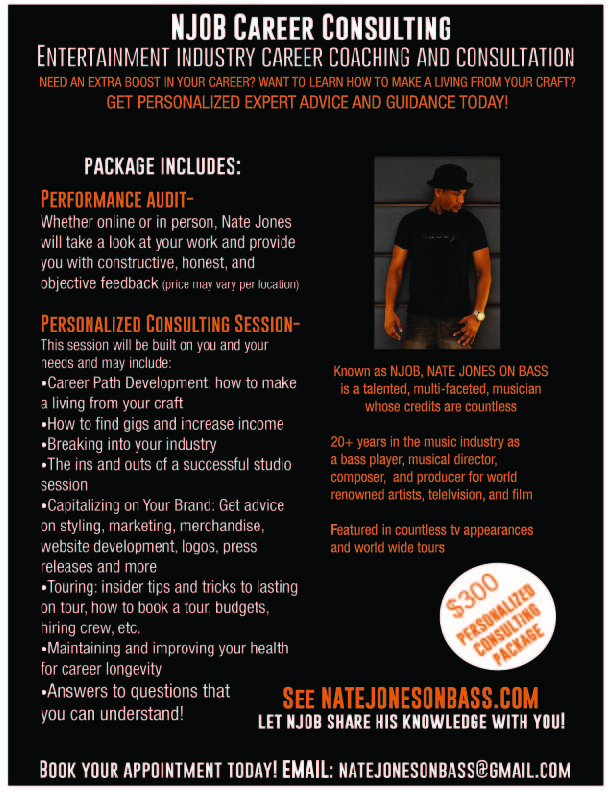 Last year alone NJOB has put bands on TV, Musicians in major sessions, Stylists with major artists, and background singers on tour. He's ventured with countless venues and artists which brought them success and exposure . His self-produced show, Taste the Stage is one of the biggest rising movements in NYC .
Entertainment Industry Career Coaching and Consultation
Need an extra boost in your career? Want to learn how to make a living for your career? Want to learn how to make a living from your craft?
Get personalized expert advice and guidance today!
Package Price $300 and Includes:
Performance Audit
Whether online or in person, Nate Jones will take a look at your work and provide you with constructive, honest and objective feedback (price may vary per location).
Personalized Consulting Session
This session will be built on you and your needs and may include:
Career Path Development: How to make a living from your craft
How to find gigs and increase income
Breaking into your industry
The ins and outs of a successful studio session
Capitalizing on Your Brand: Get advice on styling, marketing, merchandize, website development, logos, press releases and more.
Touring: Insider tips and tricks to lasting on tour, how to book a tour, budgets, hiring crew, etc.
Maintaining and improving your health for career longevity
Answers to question that you can understand!
---
Music Lessons
Hone in on your craft with Private or Skype lessons with Nate Jones. Private/Skype lessons available at a rate of $75 an hour. Private lesson rates will change based upon the  travel distance.
Book your appointment today! Natejonesonbass@gmail.com.