The Between the Sheets Tour was amazing!!!! Started off rough, but we stuck together and pulled through. Shouts to Trey, Chris and Tyga! The tour had two killing bands. Some of the best musicians in the world.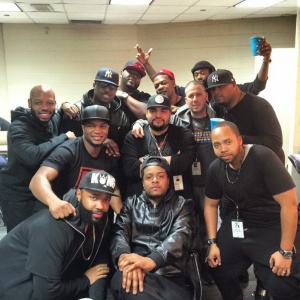 I studied and watched every musician this tour learning, sharing and building. Both bands were behind the stage which was weird for all of us, but we made it work.
Sold out crowd every night!!!  Me and Ricky were the only musicians to actually step on stage during the show. It was only half a song but we made it last for ever.
Chris Brown is Pop, Hip-Hop and R&B the approach to playing his music is totally different but effective. Chris Brown is a cool dude, really creative and always went out his way to say what's up. Trey Songz was on fire this tour! Total new look by adding dancers and he sang his ass off. The band was on fire especially the bassist natejonesonbass. Ha.. Teamsongz showed class and professionalism on this run as we always do.
I met and shared stage with Teddy Riley , Keith Sweat,  R. Kelly , Mike jones, Snoop, Kevin Heart, E40, G Unit and so many more. It was an epic tour.
To the musicians of the world it's important that we stick together! I've never wanted to be in charge. I just want to be apart of something great and have a voice. If I need to be In charge I can though.  When we talk down on each other we lose value and take food out our mouths. Together we win.