My 1st time to Namibia and I loved every minute of it. It took 20 hours and it was worth it. The people are peaceful, intelligent and beautiful. The 1st person I met said "welcome home". I went to the safari and was reborn! There were Cheetahs , leopards, wild dogs, lions and more.
I also had the pleasure of meeting some of the Namibias Tribe: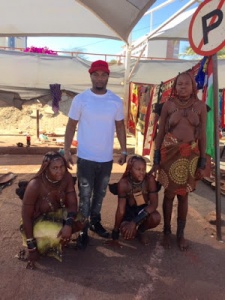 The show was epic! The temperature dropped down to 45 degrees: this time of year is their Winter. My hands had ice cubes on them and Mr Songz decides he wants to give the band solos. What??? All the beautiful warm climates we've been in ,and now? Really? He calls my name and I step out and go for it. #veganham !!! Grateful for the opportunity. I'll be showing more of my production side this year.  The team is really amazing and showed why we are one of the best in the business . 
I met some people on this trip that will be in my life forever. I've never said that before, but I truly believe that.  Disappointed the trip was so short, but excited for new connections and relationships.